Health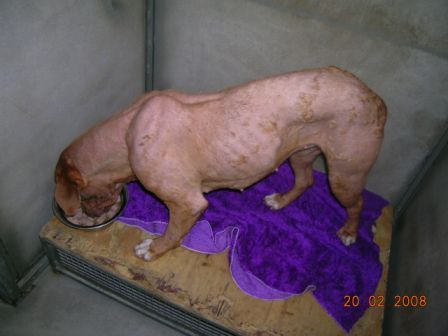 Health Issues of the Dogue de Bordeaux
Like any dog, purebred or mixed, the Dogue de Bordeaux can suffer from health problems during their life.
Every owner should be familiar with health issues that they might experience and where the problems can avoided, every step possible is taken to do so, for the welfare of the dog.
Choosing a breeder who health tests all of their dogs for a number of hereditary diseases and problems is only the first step in supporting the welfare of your dog, and part of becoming a responsible owner.
The Dogue de Bordeaux Club of Australia strongly recommend only purchasing from health tested parents, and if possible grand-parents.
The Code of Ethics of the Australian National Kennel Council, and Code of Practice for Hereditary Diseases apply to all registered breeders of the Dogue de Bordeaux in Australia.
Our members have been health testing their dogs for many years in a proactive effort to improve on quality of health of their dogs, and a reduction in problems for their offspring, and therefore for the new owner. They will be able to make certification of the health testing available to you.
Research is the key and improving your understanding of the breed and all its Health Issues - before you buy.
Know who you are dealing with. You will need to have a good relationship with your choice of breeder for many years to come, for the welfare of your Dogue. So choose wisely for both yours and your puppy's sake. This may involve waiting for a puppy from a specific breeder. Better to wait than regret your decision later.
We highly recommend the Health Issue Information pages of the Dogue de Bordeaux Education and Rescue website, for essential information on many Health Issues of the DDB.
Click on the Health Issues listed below for more information.
Osteochondritis Dissecans (OCD)
Acute Gastric Dilation (Bloat)
DNA Testing
There is limited DNA testing available for the Dogue de Bordeaux, and it does not cover all genetic diseases. Current available DNA Testing can test for Degenerative Mylopethy (DM), Canine Multifocal Retinopathy (CMR1) and Hereditary Footpad Hyperkeretosis (HFH-B). All of which are rarely seen in the breed.
There will always be unexpected health problems arise in dogs from time to time. The measure of a good breeder is how they can work with the owner of the dog to address such problems, for the health and well being of the dog.
If your Dogue has a health problem we recommend that you talk to both your vet and the breeder of your Dogue.